Scrappy Celebration- Week 4
Scrappy Celebration- Week 4
Kuddos to everyone sewing along on this project. I know we have had some small 1" blocks along the way and they can be fiddly.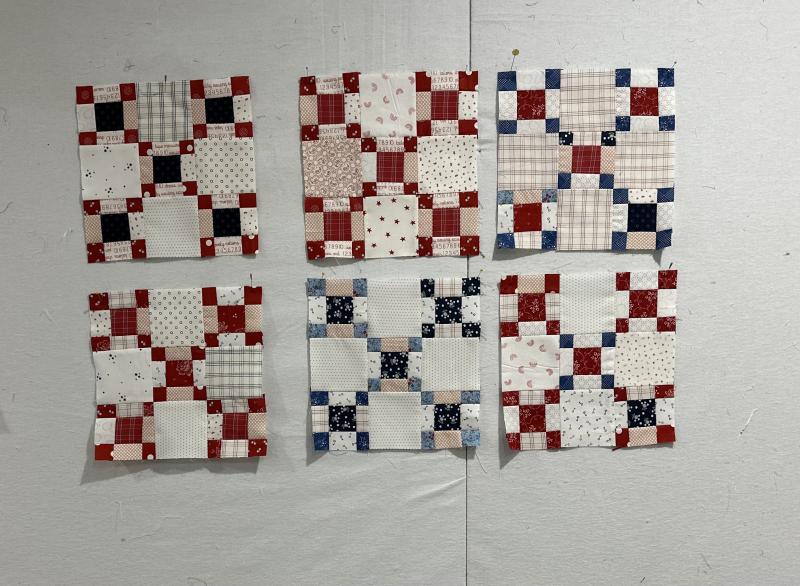 One of my first entry points to quilting was doing Seminole Patchwork. Thank goodness! Seminole Patchwork is  what really gave me the early concept of strip piecing, cutting and joining back in to sections. Dont get me wrong, I did my fair share of creating templates from cardboard, hand cutting fabric and sewing them back together. Thank goodness we do very little of that anymore.
In the magazine, we had to do the instructions cut as single pieces, but you can convert any of them into strip piecing. This could create a little more waste but is always a fair trade off for accuracy.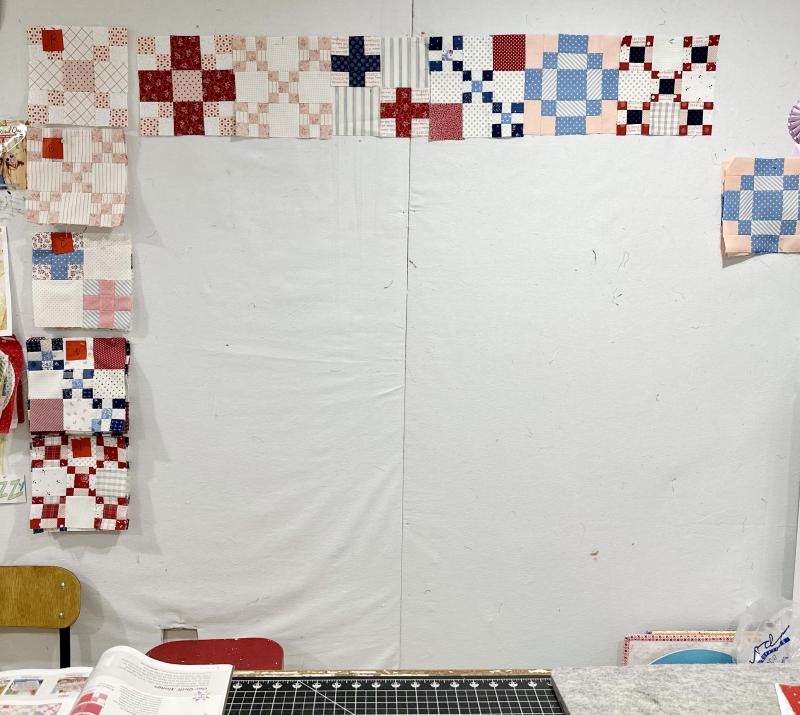 For the longest time I did not use or have room for a design wall.  When needed I would lay things out on my floor, step over them and hope everything stayed in place. Now my house is full of grandkids and pets coming and going so the floor is no longer a viable option. I started with a piece of foam core cover with flannel and just moved it around as needed. I loved this so much and couldnt believe I had gone so long without it. After some rearranging I covered the entire wall with flannel covered foam core, batting works also. It is amazing when you can hang things up, walk away and come back for a fresh look at your project.
 I have started laying out the blocks. The first row is  pretty much the blocks in the order we have been sewing them, but it will start to get a little more tricky about the placement of the blocks. I have hung all my blocks along the side so I can add them as needed, and having bonus blocks, does change it up some. This also allows me to look at the distribution of color so far and I can make color choices accordingly for the remaning blocks.
To look at my first row, I would immediately say the pink in the bonus block ( block 5 in the first row) is too strong, but I know from my other blocks there will be a nice balance of more pinks to soften how strong this block is, so no worries. I can alos tell that I am going to want some larger concetration of Navy fabrics in some of my blocks, again helping to soften or reced the light blue and pink in the bonus block. While I hope this is a tip in scrappy color placement for you, please do not overthink this process. It is a scrappy fun patchwork process. My exent of high tech color placement is squinting. When i squint at the blocks it helps me see value ( dark and light) and I go from there. 
Here is another bonus block just for fun and the math dividing a 9" square into section can be tricky at times. This block is an example of how I cut my pieces a tad biger, stripped pieced them and trimmed down as I went. Anytime the measurement is 1/8". 3/8" 5/8" 7/8", I always round up, then trim.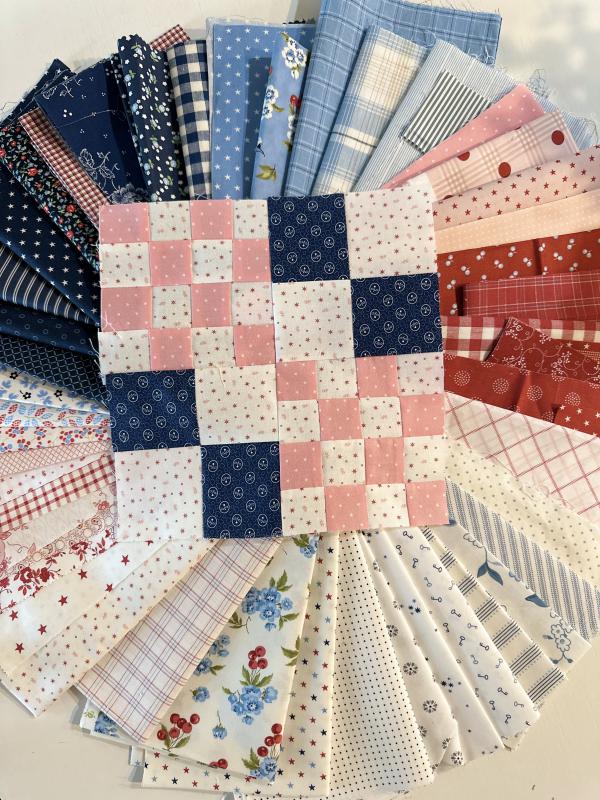 Scrappy Celebration Bonus Block 2
ENJOY!!
-modalissa